As nightly protests continue in Fayetteville over the killing of Jason Walker by an off-duty deputy, a judge approved the release of body camera video from officers who responded to the Saturday shooting.
What You Need to Know 
A judge released body camera footage that shows the aftermath of a shooting in which an off-duty deputy shot a man who he says jumped on his vehicle
Jason Walker was shot by Cumberland County Sheriff's Office Lt. Jeffrey Hash 
Hash is on leave with pay, but has not faced any charges, and there have been nightly protests
The shooting happened on a busy road in Fayetteville Saturday afternoon. Cumberland County Sheriff's Office Lt. Jeffrey Hash shot and killed Walker. Hash said Walker ran out into the street and jumped onto the hood of his truck before the shooting.
One of the videos shows police talking to Anthony Walker, who says he is Jason Walker's father and lives across the street. The senior Walker seems to confirm Hash's story.
"He came out the yard. I was trying to get him to come back over and I said, 'Come back, Jason'. He come out into the street. He was out in the street and that fella drove up. He jumped up on the guy's hood and the guy jumped out and shoots him," Anthony Walker said.
Anthony Walker said his son "pulled off one of the windshield wipers, and he hit the windshield."
Elizabeth Ricks can be seen in the same 49-second video as Anthony Walker. She's a trauma nurse who was driving behind Hash's pickup truck when the shooting happened. She is seen in video at the scene trying to help save Walker as he lay on the ground.
"When we came up he was already on the ground," Ricks said. "And then the guy just started shooting him. It's like he hit him and then just got out, and just shot him."
Ricks said Jason Walker was already on the ground when Hash shot him.
Hash told investigators that Jason Walker was attacking his truck. Hash said his wife and child were in the truck when he got out and shot Jason Walker.  
The City of Fayetteville released the videos after disputes about accounts at the scene.
The city has seen nightly protests since the shooting. A memorial sits in Bingham Road, where Jason Walker was killed less than 100 yards from his family's home. 
Family cries foul 
Walker's family has hired prominent civil rights lawyer Benjamin Crump to represent them, and he spoke before a crowd Thursday evening at Good Hope Missionary Baptist Church in Fayetteville, which is where Walker grew up worshiping.
"The first thing I want to let Jason Walker's family know is that they are not alone," said Crump, who has represented families in high-profile police violence cases, including the George Floyd killing.
"That off-duty deputy was a regular citizen, and he should have been treated like a regular citizen. He shouldn't have been treated like he was on duty," Crump said. 
Hash can be heard during a 911 call:
911 Operator: Fayetteville 9-1-1. What's the address of your emergency?
Hash: Yes ma'am, it's an emergency. I'm on Shenandoah and Bingham Drive. I just had a man jump on my vehicle and broke my windshield. I just shot him.
911 Operator: Are you right beside the subject?
Hash: I am.
911 Operator: OK. Is he breathing?
Hash: He's gone. He's gone. No ma'am he's not. He's gone ma'am.
Later in that call Hash said he feared for his life.
Hash: I'm a deputy sheriff. Come here. He jumped on my vehicle. I just had to shoot him.
911 Operator: Can you tell me what happened?
Hash: I was driving down the road, and he came flying across Bingham Drive, running, and then I stopped so I wouldn't hit him, and he jumped on my car and started screaming, pulled my windshield wipers off and started beating my windshield and broke my windshield. I have my wife and my daughter in my vehicle.
Crump and Walker's family dispute Hash's assertion that he was acting in self-defense. 
"Don't try to act like we stuck on stupid and give us some crazy whimsical story," Crump told those gathered Thursday at the church. 
The differences in the accounts of Hash and bystanders are why Fayetteville Police Chief Gina Hawkins filed a petition to release recordings on Saturday.
"Two witnesses have made comments on social media, released a video and spoke at a protest regarding this incident, generating significant public attention," Hawkins wrote in the petition. "The body-worn camera of officers captured the statements of three witnesses. FPD is seeking public release of the witness statement recordings to advance compelling public interest, release would not create a serious threat to the fair administration of justice."
Related: Judge allows video release in Black man's shooting death
Two days later Superior Court Judge James Ammons ordered the video showing verbal exchanges between Fayetteville police officers and witnesses at the scene be open to public viewing.
At the church gathering Thursday, Walker's mother, Janice Walker, echoed calls for transparency and accountability.
"My prayer is there will be peace and that there will be justice," she said at the pulpit.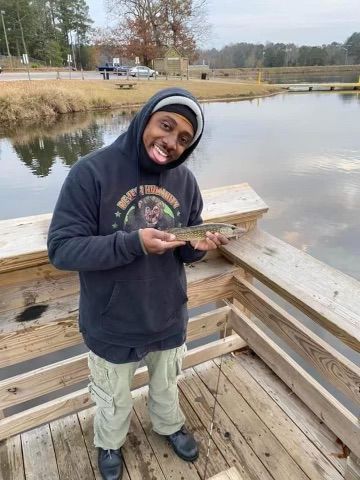 Marlo Walker, Jason Walker's brother, said his sibling was a good father to his 14-year-old son, Christian. Marlo Walker shared a conversation he had with his brother the night before he died. 
"If you know Jason, Jason was a good-hearted person. I talked to him Friday night — he called me Friday night and we talked," Marlo Walker said. "The last thing he said before he got off the phone was, 'I love you.'"
Philonise Floyd, the brother of George Floyd, was invited to attend the gathering Thursday night by Crump's legal team.
George Floyd was born in Fayetteville and has a number of relatives in North Carolina. 
Philonise Floyd said the country is watching.
"We won't be able to get justice, but we will get accountability," Floyd said.
Crump said Walker's killing is part of the greater discussion of police violence against Black men in America.
"The few times we all can remember when police get convicted, but then we're reminded of the Jason Walkers of the world," Crump said. "So even though we are making progress, we still have a long way to go."
Law enforcement agencies, including the FBI and the N.C. State Bureau of Investigation, are investigating the shooting.




Source link